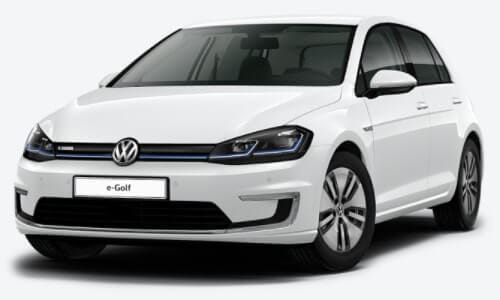 Price range from NOK 590,-

Our electric personal cars (VW e-Golf) can be rented at Rogaland Bilutleie from NOK 590,- per day. This price includes VAT, and up to 100km driving each day. Fixed prices for weekends, weeks or monthly rental.
Specifications:
Doors: 5
Seats: 5
VW e-Golf
Volkswagen e-Golf is a powerful car with zero emmissions. The car looks and drives just like a normal car, but with a better accelleration than combustion engines which makes for a fun driving experience. The battery allows for up to 300 km driving before recharge, so this car is a good choice both for short city trips and cross-country trips. With its advanced LED-lights, modern chauffeur environment and collission-alert as well as City emergency brakes – this is plain and simple just a fantastic car!
All our e-Golfs come with delightful leather interiors, rear cameras, navi and heatpump for the colder days.
Book Rent an electric car
Send a request using the form below and we will respond as soon as possible.